look at these douchebags
Nao Robert Sherman Lee
Age: 23
Gender: Male
Ethnicity: Japanese/African American
The most culturally un-Asian half-Asian you will ever meet. A nice guy who is secretly an asshole. Lies a lot without worrying about the consequences. Takes everything in stride and doesn't bother worrying about whatever conflicts arise in his life. Usually has up to (or at least) four girlfriends at a time. Writes to his mother frequently. Loves black comedies (Doctor Strangelove is his favorite) and b-movies (especially those starring Bruce Campbell). Still likes Power Rangers.
Apparently likes bookish girls. Not a fan of the dominating type.
lesser assholes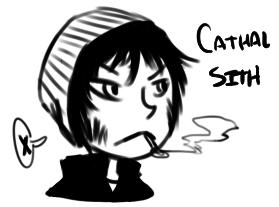 Cathal Sith
Age: ??
Gender: Male
Ethnicity: Scottish/Irish American
A loner known in Santa Mira for discouraging gang violence by chasing gangs out of town. That doesn't make him any less of a shady character. Has his hands in various business opportunities. Smokes an unidentifiable, odd smelling substance.
Surprisingly polite towards women. Not Nao's biggest fan.
(updates as more characters appear!)